Natural Cleaning - Lavender Cream Cleaner
As I've adopted a slower, simpler and more natural way of living, I feel so much healthier. I have struggled with painful headaches over the years but since I've removed all the chemicals from my home these have almost disappeared (except after a few too many glasses of red wine, ahem). I've realised that I am now very sensitive to chemicals and synthetic fragrances and they can instantly give me a headache if they are overpowering. It's particularly noticeable at the swimming pool where people use antiperspirant sprays and the scent drifts across from the changing areas. I have to swim away quickly from the source as otherwise my head starts to throb and I feel nauseous.
One of the simplest and cheapest ways to reduce the levels of indoor air pollution in the home is to switch to natural cleaning. Making your own cleaning products cuts down the need for excess packaging and you use ingredients that come from naturally occurring resources or renewable sources. It is also a frugal way to clean. You consume less and use less, therefore saving you money in the long term.
Below is one of my favourite cleaning recipes that I use in my home. It's similar to the cream cleaner you would buy in a bottle from the supermarket but without any hidden nasties. It is ideal for scrubbing bathroom sinks and bathtubs as well as in the kitchen where it is good to use on sinks and draining boards. This cream cleaner is brilliant at removing soap scum and it's suitable to use on ceramic, plastic and stainless steel sinks. It's made from three ingredients; bicarbonate of soda, used for deodorizing and gentle scouring, liquid castile soap to lift dirt and act as a degreaser along with a few dried lavender flowers to add a gorgeous natural fragrance. Alternatively, you can miss out the lavender flowers and add a few drops of essential oil instead.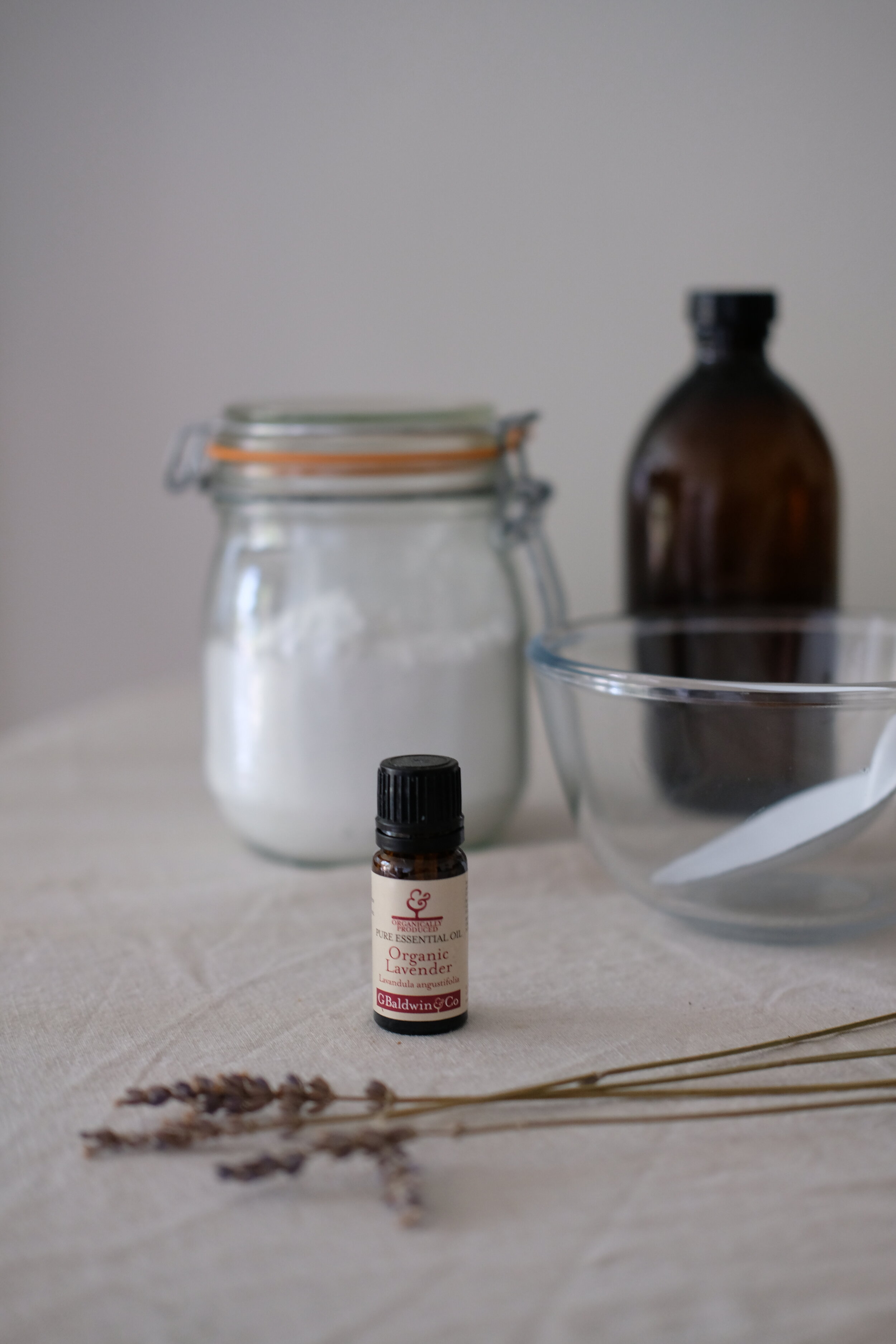 Bicarbonate of soda (baking soda)
Liquid Castile soap
A few dried lavender stems (optional)
Organic Lavender Essential Oil
A mixing bowl
Spoon
Storage jar
Before you use any natural cleaning product, do a small spot test in an inconspicuous area to make sure that the recipe is suitable for your home. It's also a good idea to wear rubber gloves when mixing ingredients and whilst using the cleaner. Use separate bowls, spoons and storage jars for your recipes and not ones you use for food preparation.
How to make lavender cream cleaner -
Add 100 g bicarbonate of soda (baking soda) to a mixing bowl (left image above)
Pour the liquid castile soap into the bowl until the bicarbonate of soda is covered over. (middle image above)
There are no precise measurements for the liquid soap but you are aiming for a paste like consistency
Stir the mixture until combined. If the mixture is very runny, add a little more bicarbonate. If it's too clumpy, add a little more castile soap.
Add a few drops of lavender essential oil if using or alternatively, add the dried lavender flowers. (right image above)
Stir to combine.
Pour into a clean glass storage jar.
Note - the mixture will split if left too long. Don't worry, just stir to combine again. This is a fresh cleaning product so it is best to use it up straight away.
How to use -
Apply a little of the cream cleaner to a reusable sponge, cotton cloth or rag
Using a circular motion, rub the cleaner into the sink or bathtub until the area is completely covered
Rinse away with warm water
Where I buy my ingredients -
Bicarbonate of soda (baking soda) from Seagulls Reuse refill store in Leeds (alternative - Dri-Pak and Wilko do bicarb in cardboard boxes)
Liquid castile soap - again from Seagulls Reuse refill store in Leeds (alternative - Dr Bronner liquid castile soap in unscented or lavender)
Organic lavender essential oil from Baldwins